SKU
Somfy CLEVER™ Blind Motor Rechargeable Arctic Kit
30% OFF & FREE SHIPPING WILL BE APPLIED AT CHECKOUT
Somfy's Clever™ Tilt Blind Motorization Kit is a user friendly, do-it-yourself motorization upgrade that works with your existing blinds. Put convenient control of indoor light, glare, heat, and privacy right at your fingertips. Transform your horizontal blinds to see your home in a new light. Simple, automated natural light management is within your reach.
Check Your Blind Compatibility
Kit includes:
- 1 Clever™ Tilt Blind Motor
- Situo® 1 Arctic and Situo® 5 Arctic Remote Options
- Head rail adaptors (3 sets to choose from to match your head rail)
- Tilt rod adaptors (8 to choose from)
- Rechargeable battery pack
- Lithium Ion Charger or Solar Panel Kit (QTY optional but necessary for use)
- Battery pack wall mounting brackets
- Setup/instruction guide

Clever™ Tilt Blind Motorization Compatibility

Clever™ Tilt Blind Motorization Kit Installation Guide

Head Rod & Tilt Adaptor Sizing Guide
See more
Shipping and payment




Reliable delivery carriers

Shipping only offered in USA

Details and specifications
Description
A user-friendly, do-it-yourself upgrade that works with your existing compatible blinds!
How it works:
Motor:

 Somfy's rechargeable Tilt 50 WireFree Through-Shaft RTS motor, designed specifically for tilting horizontal blinds 2" to 2-1/2" in depth.

Radio Technology Somfy:

 Somfy's superior control platform for reliable, precision communication. Compatible with a broad range of Somfy RTS products.

Remote:

 Clever is compatible with nearly all Somfy remotes and includes one Situo 5 Arctic RTS remote for tilting blind slats and controlling up to five window treatments.
Natural light at your fingertips

Rest well all night long and start your day with the natural light you need to get moving.

An extension of your reach

Got tall windows? No more climbing on furniture to adjust those blinds. Just press a button!

Smart home compatible

Pair Clever with Somfy myLink to begin creating the smart home that uses your remote, your smartphone, or voice control.
Control of unwanted glare

Minimize screen glare so you can focus on work or see all the details of that movie you've been waiting to watch.

Precise control

Incrementally tilt your blinds with the sleek, innovative Situo 5 Arctic remote. Recall a favorite position with the "my" button.

A cool way to keep out the heat

Close the blinds quickly and easily to keep out the heat and make your home more comfortable without higher cooling bills.
Clever works with most compatible horizontal blinds
Compatible Blinds
Metal headrails

2" to 2-1/2" in depth (measured front to back)

Wood, composite material, or imitation wood

Cord to raise and lower
Non-Compatible Blinds
Plastic headrails

Cordless

Vinyl, aluminum or mini blinds
Installation in 3 easy steps with the help of a video tutorial 
Step-By-Step Installation Video
This simple DIY installation guide will help you transform your blinds with the Clever in four simple steps. So let's get started!
Remove

Take down your compatible blinds and remove the manual tilt mechanism from the headrail.

Replace

Easily install the Somfy motor in place of the manual tilt mechanism using supplied adapters.

Remote

Put your blinds back in the window and easily pair them with the elegant Somfy remote.
If you're ready to make your newly motorized blinds and your home even smarter, Somfy TaHoma or myLink is the answer.
Add an optional TaHoma or myLink hub and integrate your Somfy Clever blinds with your smart home! Control motorized window coverings via smartphone, tablet or voice commands.
Control Somfy Clever blinds from anywhere with your smartphone

Create automated routines and scenes

Use voice commands to open and close your blind slates
Remote Control Options
Somfy's Clever™ DIY Tilt Blind Motorization Kit is compatible with nearly any Somfy remote.
Review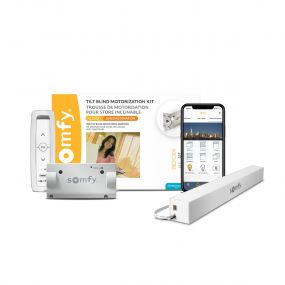 Somfy CLEVER™ DIY Tilt Blind Motor Rechargeable Arctic Kit